Overview

Due to institutional processes or accreditation requirements, you may need PDF files of syllabi that are stored in your Concourse instance. While it is possible to download individual syllabi manually, you may need to download too many syllabi to make this process feasible. If you need to download all syllabi for a specific domain, subject, term, and so on, you can use the Bulk Download feature to download up to 5,000 syllabi simultaneously in a zip file.
Before You Begin

Before you start generating an archive of the syllabi in your Concourse system, you should be aware of the following:
The bulk download tool is only available to users with domain permissions. Even system administrators are not able to create an archive if their account does not include domain permissions.




Users are not able to create archives for domains that do not fall under their domain permissions.



Depending on the amount of syllabi being downloaded, it may take several hours to complete your archive. You will receive an email once the archive is ready to be downloaded to your device.

Archives are only available in the My Archives page for fourteen days. We recommend that you download archives within the fourteen-day period so that you do not have to generate multiple requests for the same archive.
With this information in mind, let's start downloading your syllabi.
Creating an Archive

To generate an archive of syllabus PDFs from your system, navigate to Admin > Tools > Archive (Under Bulk Download).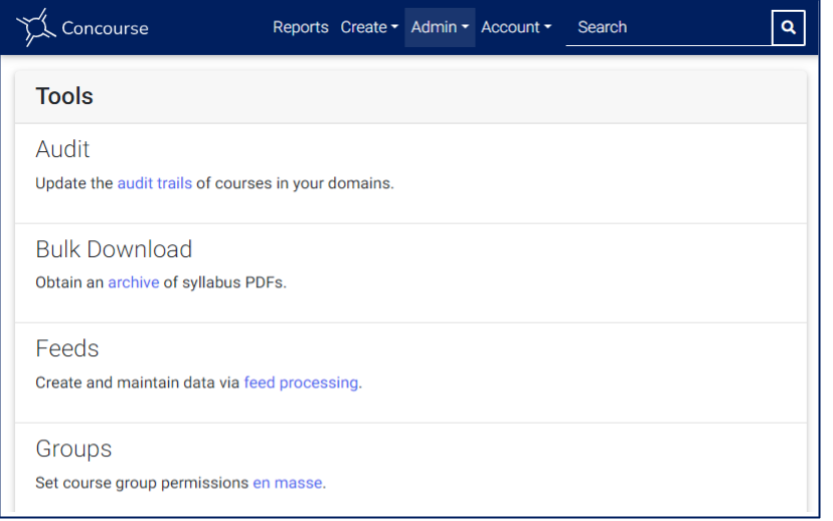 The resulting page contains
My Archives
, which features a table of archives that were generated in the previous 14 days, and
Create Archive
, which starts the bulk download process.
To generate an archive:
Select Create Archive.




On the following page, enter criteria for the courses/syllabi to download and then Search.

For more precise results, select +Advanced to reveal more search parameters.
You can narrow your search by subject, domain, session/year, delivery method, and more.

In the Results pane on the right side of the screen, select the syllabi to include in the archive. Either:

select the syllabi manually by checking the checkbox to the left of the syllabus title and then choosing Selected Results at the bottom of the page, or
scroll to the bottom of the page and choose All Results to download all syllabi that match your search criteria.

On the following page, name your archive. Be as specific as possible with the archive name to make the downloaded zip file more easily identifiable in the long run. Once you have named your archive, select Create.


On the following page, you receive a notification of how many courses are included in the download based on your domain permissions.
On the My Archives page, a new row in the table now contains information about the archive you created.
After you receive the email notification that your bulk download is complete, return to your Concourse system and navigate to Admin > Tools > Archive (Under Bulk Download). In the table of archives, select the Download link in the far right column to store the zip file of syllabus PDFs to your device's downloads folder.

Best Practices and Recommendations

When creating an archive in your Concourse system, keep the following information in mind:
Store the archive permanently in a secure location. Refer to your institution's best practices for data storage and security when determining where to store the files and how to restrict their access.

Archives are limited to 5,000 syllabi at a time. Users who request archives larger than 5,000 syllabi will receive a notice that the archive is over the limit and will be directed to refine the search before continuing.
If you would like to create an archive with more than 5,000 syllabi, consider ways to chunk the archive into categories, such as term or subject, and then create separate archives to download the required syllabi in multiple zip files.